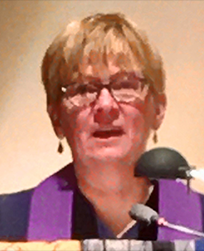 The Rev. Melinda (Mindy) Quellhorst, pastor of Grace United Church of Christ in Lancaster, Ohio, shares her views on personal wellness as a CREDO participant.
When I was ordained in 1988 and first began as an authorized minister in a local church, I didn't notice the burnout and the overarching tiredness that seems to permeate the church today. I noticed that authorized ministers were tired and seem to spend more time trying to remind themselves that they needed to take time off. I think that the term "busy" is the norm.
I am not sure we had good role models in taking the personal time for wellness that is so very needed. I notice that we aren't modeling well how to put our personal and family's wellness first. The newer programs, like
CREDO
and
NGLI
, have begun to help some of us become better aware of the need to pay attention to all aspects of our lives.
CREDO brings wholeness to the whole person. It is not like any other program that I have been a part of. CREDO helps you learn to change and grow. CREDO gives you colleagues and friends that you might not ever see again, but who have given you the compassion of their hearts. I am a better person and a more well-rounded pastor because of my CREDO experience.
I would encourage all authorized ministers to participate in CREDO. You will be healthier, you will be changed, you will have the opportunity to discern your own CREDO plan and goals. My overarching CREDO goal is that when I am 95-years old I want to be healthy enough, in all aspects of health, to take a walk on the beach with my husband. That is why you should participate. Health!
If you have the opportunity, GO! It will change your ministry, and your life.
CREDO
is a holistic wellness benefit program administered by the United Church Board for Ministerial Assistance (UCBMA) for eligible members of the Annuity and Medical Plans. The CREDO experience is anchored in a week-long seminar, where participants examine significant areas of their lives and discern prayerfully the future direction of their vocation as they respond to God's call.
Learn more
or support this ministry by visiting
http://bit.ly/UCBMA_GIVE
.