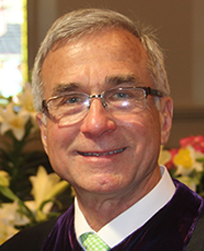 In the late 1970's, Charles and Elizabeth Hambrick-Stowe were expecting their second child. To their surprise, they learned that they were parents of twins when they arrived eight weeks early. The newborns had to spend many weeks in the hospital with specialized care before they were ready to go home.

This event placed a financial strain on the couple. At the time, Charles was in graduate school, while Elizabeth served as pastor of a small church outside Boston with a small salary.

Thanks to the United Church Board of Ministerial Assistance (UCBMA), the Hambrick-Stowes were eligible for an emergency grant, a vital source of financial sustenance during a critical time.

"There was the immediate impact of being financially okay and not having to go into debt," said Charles Hambrick-Stowe, now senior minister of First Congregational Church in Ridgefield, Connecticut. "Being able to move into the next stage of life unencumbered that way…we were deeply grateful."

Hambrick-Stowe added, "The long-term effect was that it really put me in touch with the ministries of the Pension Boards. There were times where I was able to channel assistance for people in need."

One example he shared was when a retiring Christian education director in his church was confronted with several challenges, including a personal battle with cancer, an ailing husband, and other family issues.


"Shortly after she retired she was quite sick, but I was able to get her some help from UCBMA, which enabled her to face those days with more confidence financially," said Hambrick-Stowe.

Since 1893, UCBMA has been providing direct support for United Church of Christ clergy and lay employees in need. Emergency grants are available as one-time assistance for life's unexpected moments that can create a financial demand.

Learn the many ways the UCBMA helps clergy and lay employees in need, and see if you are eligible for assistance. You can also support this ministry with your gifts to http://bit.ly/UCBMA_GIVE.