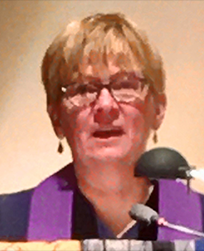 The Rev. Melinda (Mindy) Quellhorst, pastor of Grace United Church of Christ in Lancaster, Ohio, shares her life-changing experience as a CREDO participant.

When the invitation came to be part of the CREDO program, I put it aside. Then, I realized that I needed to take the time to learn about CREDO, partly because my life had changed with a divorce and I was struggling to find my center.
CREDO is a week-long seminar about spiritual, health, vocational, and financial wellness as we reclaim who God has called us to be. Spending time in the mountains of North Carolina in May, meeting new colleagues, listening – really listening – and discerning, changed me. The time together was intense. The learnings with the faculty were awe-inspiring, and much compassion was shared. Spending time on me and using the skills and learnings I gleaned from the faculty brought me peace.
The time of worship on Saturday and the "Who Is God Calling Me to Be?" session was something that I was not expecting. I thought I had dealt with the pains of the divorce; I had done counselling; I had worked it through. Then, as we gathered together, my CREDO friends and colleagues who had become so important to me in such a short time were given the opportunity to be anointed and to pray with two of the faculty for the laying on of hands.
My life was changed
The tears, the sense of peace, the comfort, the knowing that God was in that place, changed me and my ministry. The next day was Sunday and we spent most of the day in silence, working, writing, and discerning our CREDO plans, so that we could have them dedicated to God by the closing worship.
I knew then that my personal wellness in all aspects of my life was most important if I was to continue my call. Thank you,
Pension Boards
, for the opportunity to be changed in my life and in my ministry.
Since then, there have been hard times and there have been times of struggle and discouragement, but what I know from my CREDO experience is that God wants and needs me to be healthy. There is a whole group of colleagues that have grown and been changed by their CREDO experience.
CREDO
is a holistic wellness benefit program administered by the United Church Board for Ministerial Assistance (UCBMA) for eligible members of the Annuity and Medical Plans. The CREDO experience is anchored in a week-long seminar, where participants examine significant areas of their lives and discern prayerfully the future direction of their vocation as they respond to God's call.
Learn more
or support this ministry by visiting
http://bit.ly/UCBMA_GIVE
.