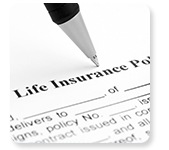 The LIDI Plan's Basic Life Insurance coverage is designed to provide UCC clergy and lay employees and their families with financial peace of mind in the event of death.

Coverage
The Life Insurance Coverage provides an active death benefit.
Active - LIDI Death Benefit Schedule
Age

Life Insurance % of
annual salary basis

under 45
200%
45-54
150%
55-64
100%
65 and up
50%
Life insurance benefit not more than $300,000; rounded to the nearest $100
Normal Age Retirees who are age 65 or older and have participated in the LIDI Plan for five (5) or more consecutive years receive $10,000 of life insurance coverage at no cost.
Early or Normal Age Retirees who participated in the Plan for less than five (5) consecutive years will receive a benefit rounded to the nearest $100, but not more than $2,000.
| | |
| --- | --- |
| Years of participation before retirement | Percent of last annual salary basis |
| less than 2 | 4% |
| 2-3 | 8% |
| 3-4 | 12% |
| 4-5 | 16% |
Additional Voluntary Life Insurance
If you are a participant in the UCC LIDI Plan, you may apply for Optional Additional Life Insurance and Optional Dependent Death Benefits.
The minimum amount of optional additional life insurance coverage you may request for yourself is $10,000. The maximum coverage is the lesser of three (3) times your annual salary basis, not to exceed $100,000. Click Here for more information.
Disability Income Benefits
The LIDI Plan also provides active employees with life insurance and income replacement while they are on short-term disability (STD) or long-term disability (LTD).

For more information about the waiting period for benefits and coordination with the Health and Pension Plans, please see the Disability Plan Facts.
Eligibility
Full-time* authorized ministers and lay workers employed by a UCC church or UCC-related entity are eligible to apply for LIDI Plan coverage.

An authorized minister includes ordained, commisioned and licensed ministers:
with ministerial standing in an Association of the UCC (or a Conference acting as an Association) and employed by a church or other religious or charitable organization, whether or not affiliated with the UCC; or,
with ministerial standing but self-employed in a field which, in the judgment of the Pension Boards, is related to the mission of the UCC.
A lay employee is someone who is a non-ordained, non-licensed, or non-commissioned employee of a UCC church or related organization.
*An employee who works 20 or more hours per week is considered to be employed full time. Coverage in this Plan is on an individual basis. Only the employee for whom the premium is paid is covered.
Cost
The annual premium for life and disability coverage is 1.5% of salary basis (salary plus housing allowance).
How to Enroll
You can enter the Plan without providing evidence of insurability if you submit your application within 90 days of your first eligible full-time (20 hours or more per week) UCC employment. If you do not apply for coverage under the Plan within 90 days of your first eligibility, you must submit a Statement of Health form along with your application. An independent underwriter will review your Statement of Health and determine whether or not you can enroll in the Plan. Coverage will become effective on the first day of the following month after the acceptance of your Statement of Health.

If you wish to participate and you are within 90 days of your first eligible employment, please click here for a LIDI application. For a full Plan description, please click here to review the booklet, Highlights of Your UCC Life Insurance and Disability Income Benefits Plan.

If you are applying for coverage after 90 days of your first eligible employment, please click here for a Statement of Health form and LIDI application.