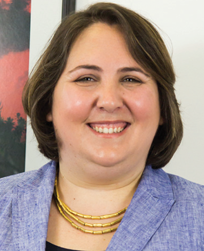 The Rev. Alexis Fuller-Wright, who is pastor of the Christ Congregation in Princeton, New Jersey and a participant in the Next Generation Leadership Initiative (NGLI) class of 2024, shares her views on how NGLI is addressing the needs of today's church and moving us towards the Church of the future.

Seminaries do a lot of wonderful work. They teach you how to preach, how to be a pastoral presence, and how to be a great individual contributor. They also teach you how to lead the church of the past.

But, one of the things we are clear about as a denomination is that God is still speaking and leading us into the future.

Churches and communities of faith are not necessarily known for being cutting-edge. We need the gifts and skills to not just meet people where they are, but to transform systems into vital communities of faith that are transforming their communities.

We do a good job of helping to meet the needs within the walls, but we need take the work outside of those walls and be "leaven in the loaf," if you will. This way, those who are leaving our congregations are having transforming effects in their communities, and those communities are having transformative effects in their cities and states, and we are having a bigger impact in the world.

The kind of skills that we're taught in NGLI – I haven't found in any continuing education [course] or seminary that are addressing these needs in the same way.

The work that NGLI is doing is critical for where the church hopes to go in the future. If we want to be vital communities, then we need to have the tools to cultivate that vitality, and that's what NGLI offers.

Learn more about the NGLI or support this ministry with your gifts to http://bit.ly/UCBMA_GIVE.