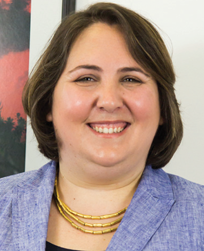 The Rev. Alexis Fuller-Wright, pastor of Christ Congregation in Princeton, New Jersey and a participant in the Next Generation Leadership Initiative (NGLI) class of 2024, shares her views on some of the common challenges facing new or younger pastors today.

New ministers are often called to smaller, more rural churches that are looking to regain the glory of the past, not necessarily to take stock of who they are now and how God is calling them into the future.

These churches can be isolating, and often lacking in local colleagues who share a passion for transformational ministry. It's really depleting to be out there on your own without "thought partners" to help bring your vision to life.

On top of the isolation, most of us leave seminary knowing how to love our people and care for them individually, but far fewer of us leave with the tools needed to transform stagnant or dysfunctional systems into healthy churches. Yet that's what many of our churches need.

But, risking that kind of change is scary – for the pastor and the church.

The most repeated phrase in the Bible is, "be not afraid." What new pastors need are the tools to help congregations be not afraid of where God is calling us, be not afraid of the hard work of listening to one another, and be open to a new way of being the church together to meet the needs of a changing world.

So, what new pastors often need is help. Not help preserving the church of the past, but help cultivating the church as a living laboratory for how Christ may be manifest in the world.

NGLI is a 20-year initiative to energize and support transformative young clergy for local churches in the United Church of Christ. Each participant engages in a 10-year program that includes core curriculum, individualized continuing education, General Synod visits, learning visits in congregational settings and a peer group for support and networking.

Learn more about the NGLI or support this ministry with your gifts to http://bit.ly/UCBMA_GIVE.